Mission
Lead to unprecedented results
"Our most startling achievements are those that we had previously considered "inaccessible" and that, although un-hoped for, we accomplished using our own abilities."
PLI's focus is on tangible results. We help management teams to reveal, explore and apply their potential in the areas of relationship: to time, energy, others, self, circumstances and commitments.
Obviously, PLI coaches' are selected for their experience and competency, but more importantly for their committed support to the customer about concrete operational measurable results.
Beyond whatever sophisticated method, what counts is
People, as the aim of PLI coaching.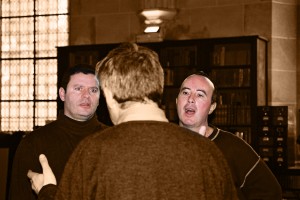 A PLI operation can only exist where there is the convergence of a leader, a real management issue and a commitment to explore new ways of being.
To enable and speed up transformation, PLI coaches' use proven transformation technologies such as Business Mapping, Magic cube, Energy & Results Matrix, The donkey out of the well, Identity and Values alignment, Board session. They also use arts such as martial arts, rhythmic, singing, theatre when there is a need to change angles about energy, alignment and synergy
With PLI's individual coaching workshop, a leader foster a performing attitude, acting on new updated priorities, with a fair and authentic relationships and behaviors.
With team operational coaching workshop, leaders develop common and shared success vision with a new leading organization about performing management processes for business development, competitiveness and operational excellence.
They maximize and leverage on such vision and road map as a strong teaming-up platform to foster the current transformation and the team's selected initiatives implementation,
They develop a new way of being with inspiring working processes aimed at a sustainable performance, teamwork and confidence, cross functional synergy, pleasure and development,
They develop a new team leadership cascading in the organizations with day-to-day team and individual ability to put things in perspective, facilitate change, anticipate and address the right "bull" in time.
Trivialization and generalization of business failures,
Unstoppable fragmentation of functions and silos syndrom,
Loss of meanings, management benchmarks, quality relationships, leadership.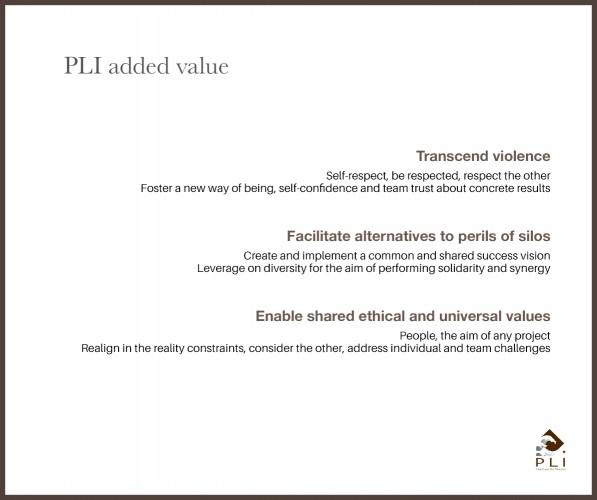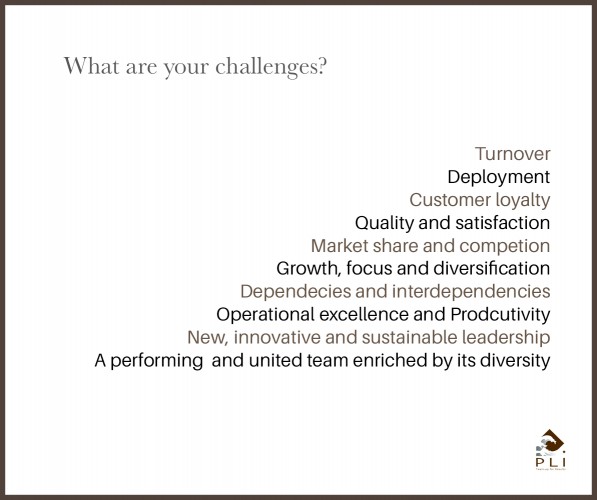 Create and implement:
A new performing operational synergy designed by the actors,
Individual and team awareness about challenges and commitments.
The success of PLI's seminar involves meeting a leadership, a concrete operational issue and a strong motivation to activate new supports.